Hakolal.co.il and Ilan's Burger Bar Collaboration
Ilan's Burger Bar is a Kosher burger bar situated in El Raval, Barcelona.
This business stands out since there aren't many restaurants in Barcelona that offer Kosher meat, and specifically burgers.
Ilan's Burger Bar wishes to reach the Israeli tourist who follows the Kosher diet and are interested not only in Kosher food but also in high-quality dining during their travel in Barcelona
Prior to being contacted by Ilans Bar, Hakolal.co.il already had a full review page for religious Jewish tourists in Barcelona, as well as supporting pages such as "Kosher restaurants in Barcelona" and "Hotels for religious tourists in Barcelona".
In fact, Hakolal offers multiple pages related to this subject in various destinations, which is one of the reasons that it's between the topmost reliable websites for religious tourists in Hebrew.
We integrated an ad for Ilan's Burger Bar in a variety of pages, such as:
This and more, a review page was uploaded and set at the top of the list for "Recommended restaurants in Barcelona".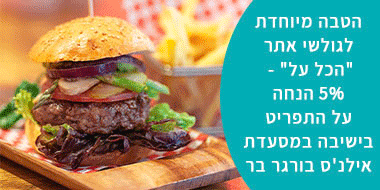 Our data analysis concludes that as a result of this cooperation, Ilan's Bar review page was viewed every month by hundreds of users. Furthermore, tens of thousands of Israelis planning a visit to Barcelona every month view Ilan's Bar ad on our various pages.
We in Hakolal are very satisfied with this collaboration. It contributes both us and the advertiser, but first and foremost it's very relevant to our users. Therefore, we find that everyone benefits from this cooperation.
---
Ohad Shaked (Ph.D.) is a lecturer and researcher in the field of Digital Marketing who specializes in Tourism Marketing. Ohad is the owner and editor of "Hakolal.co.il" | Main image by TRAVELKR from Pixabay.